Ho Khe Ngang Hue, with its pristine beauty, charming young country, is a virtual live check-in point that is loved by young people. You can come here to take photos, go camping or simply drop your soul into a romantic cloudy space.
Where is Khe Ngang Lake on Hue tourist map?
Perhaps the historical relics and famous sights of Hue are no stranger to visitors from four directions when returning to the ancient capital. But have you ever wondered that besides the palace and mausoleum of the kings, Hue has another new and poetic destination?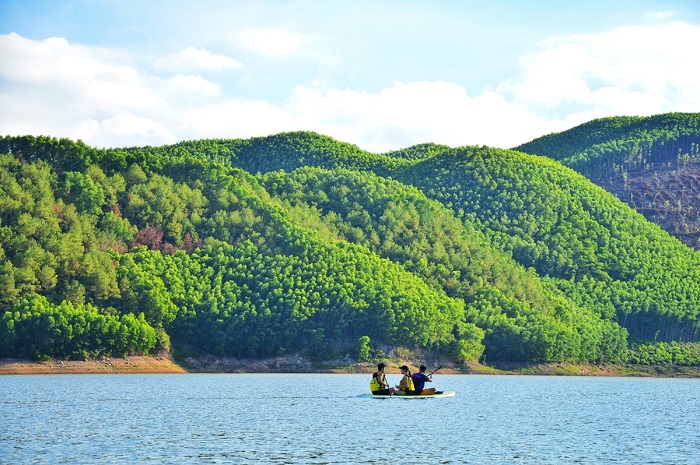 Ho Khe Ngang Hue is located in Huong Tra district. Photo: Vnexpress
Definitely because this beautiful, peaceful land has diverse terrain with hills, mountains, rivers, lakes, the sea, ... And if this time coming to Hue dreaming, you want to "change the wind" with the tourist destination. For other schedules, please check in Khe Ngang Lake.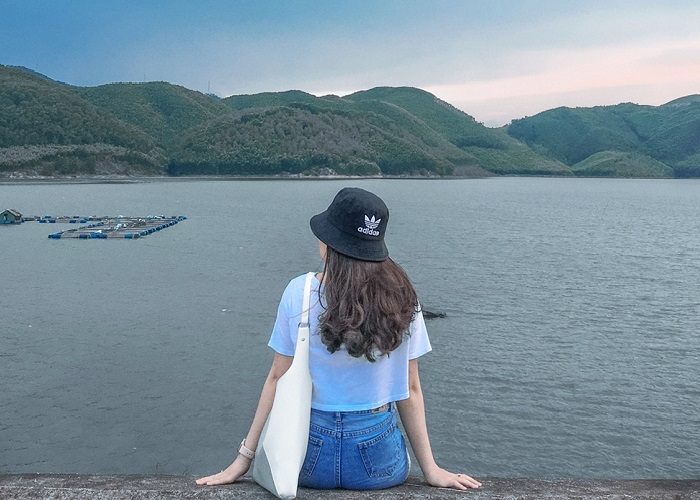 This is a favorite destination for young people. Photo: Vnexpress
Khe Ngang Lake Hue is a freshwater lake located in Huong Tra district. From the city center to here about 12 km and you can reach by Van Thang street. In this direction, you go to Thien Mu Pagoda, just go straight to Van Thanh Street. After passing the Avoid Hue Street, you will see a sign to go to Khe Ngang Lake.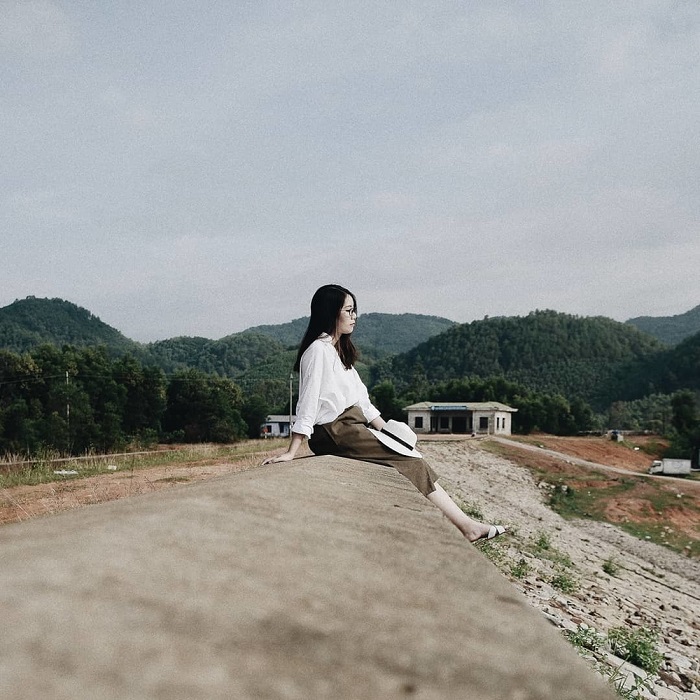 Coming to Khe Ngang Lake Hue, you will have many virtual live photos. Photo: topviews
Although not too far from the center, this lake is located in the middle of the mountain forest. Therefore, the road to here is somewhat difficult to go. You should combine Google Maps and ask locals for directions.

Dreamy scenery on the way to Khe Ngang Lake
Although not a famous tourist attraction of Hue , your journey to discover Khe Ngang Lake will be great. Because you don't have to go to the lake to feel the beauty. But even on the way, you can also admire the natural picture of Hue countryside.

Dreamy, romantic scenery of Hue Khe Ngang Lake. Photo: Vnexpress
The land of Huong Tra is accreted from alluvium of the Huong River, becoming greener, lush and fertile. The corn fields, sugar cane fields and the green rice fields on both sides of the road help the scenery of this place more peaceful and simple.

Romantic sunset on the lake across Hue. Photo: my_nhung_nguyen
The closer you get to the lake, the more you can feel the peaceful beauty radiating from the green of the rice fields, from a small trail and from where the cool breeze comes. Perhaps it is the beauty of this rustic country that the Khe Ngang Hue Lake is more and more popular with tourists.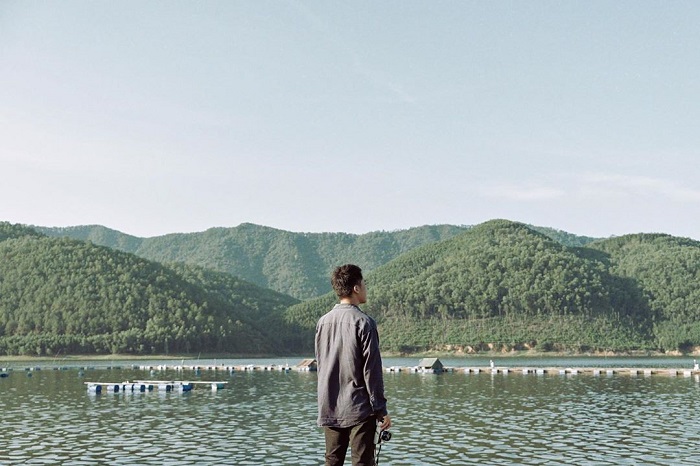 Hue cross-slit lake is beautiful every season of the year. Photo: juzkyte
If you are healthy, instead of riding a motorbike, you should choose to ride a bicycle so that you can enjoy a fuller view along the way. The small folds of the house are weaving along the corn fields and sugar cane fields, creating a really dreamy and romantic scene of Hue.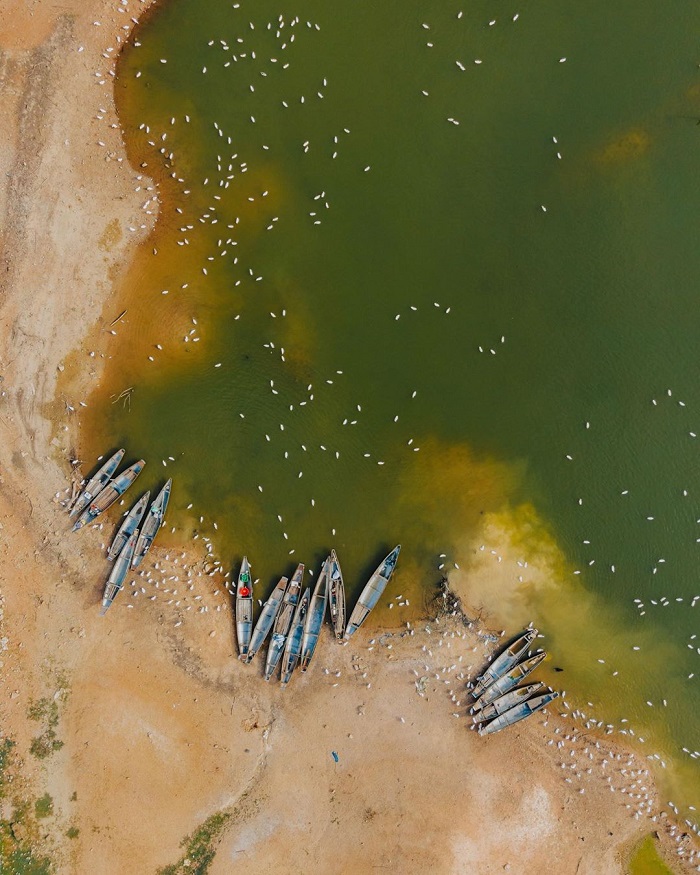 The beauty of Khe Ngang Hue lake when viewed from above. Photo: anhtai.bber
Then when Khe Ngang Lake gradually appears in front of your eyes, you will find that your 12 km journey is worth it. Everything exists with a calm, gentle, radiating from the calm water surface and the green hills surrounding the lake.

The irresistible attraction of Khe Ngang Lake
It can be said that Khe Ngang Lake is one of the most beautiful lakes in Hue that is most loved by young people. Because every season of the year, this place is also beautiful, bringing many memorable experiences for visitors.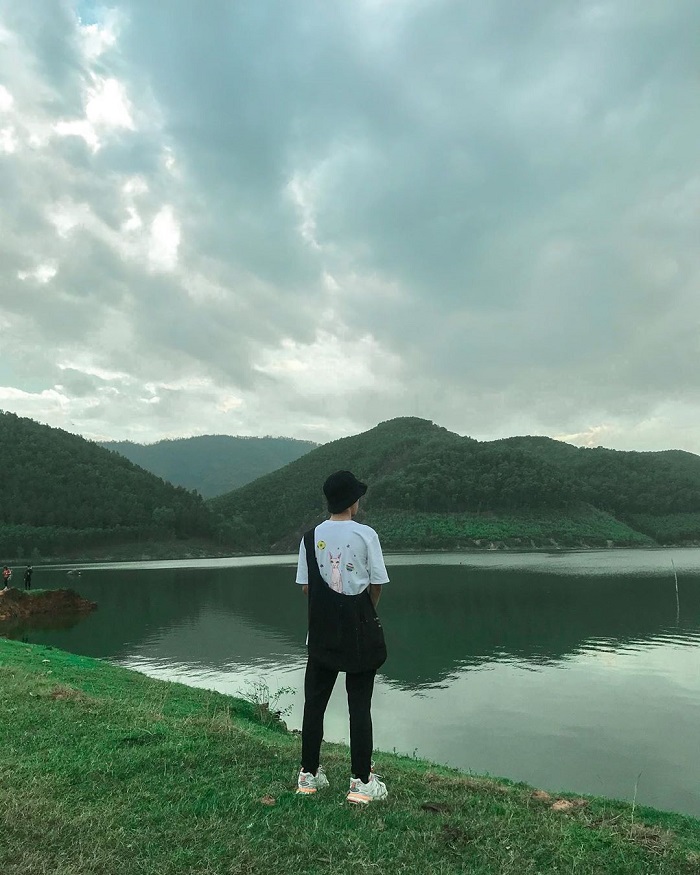 There are many cool grasses around Khe Ngang Lake. Photo: im.phuocc__
In front of your eyes is a green patch with dense and green trees, making a cool space not inferior to Dalat. Not to mention, the location of this lake is far from the city center, separate from the hustle and bustle of life, so it remains quiet and simple.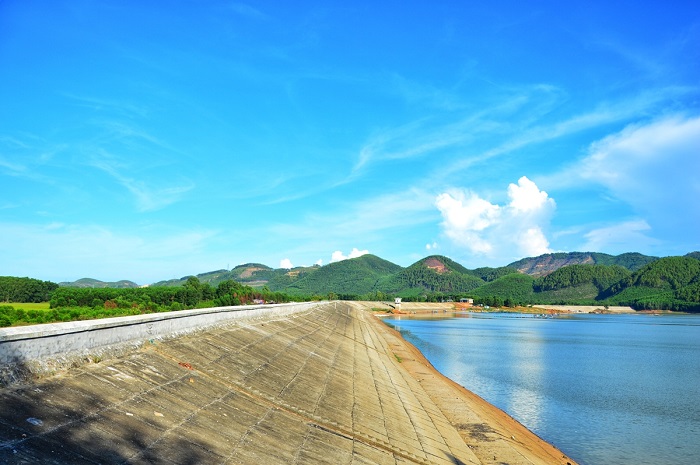 The lake dike is also an ideal place for a walk. Photo: Vnexpress
Surrounding the lake's banks are wide fields of green and green grass, making the natural picture of this place more lyrical and gorgeous. Many times, you just need to walk around the lake or find a small corner to watch the scenery to have a good photo album brought.

Here, you will have many beautiful photos to bring back. Photo: Topviews
The closer you get to the shore of the lake, the more you can feel the coolness of this place. The water in the lake is clear and blue, reflecting the shadows of the surrounding trees and mountains. The surface of the water is still and calm as if he were contemplating.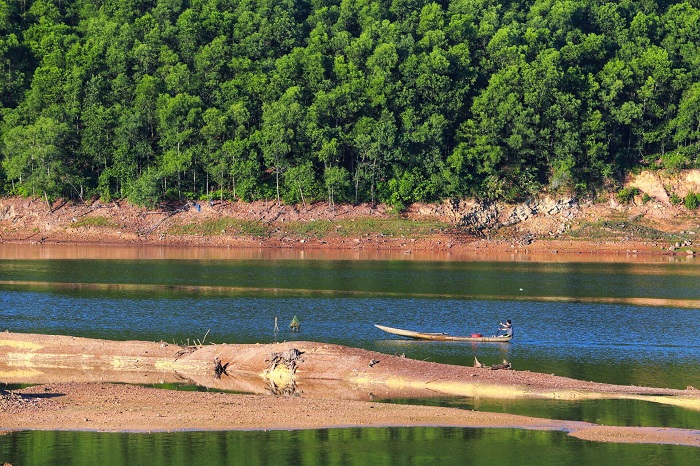 Hue cross-slit lake is beautiful every season of the year. Photo: FB Hue through photos
In particular, in Khe Ngang Da Nang lake, there is also a dyke used to block water. This is a place where you can go to take some check-in photos, immerse yourself in the really pure and peaceful natural scenery.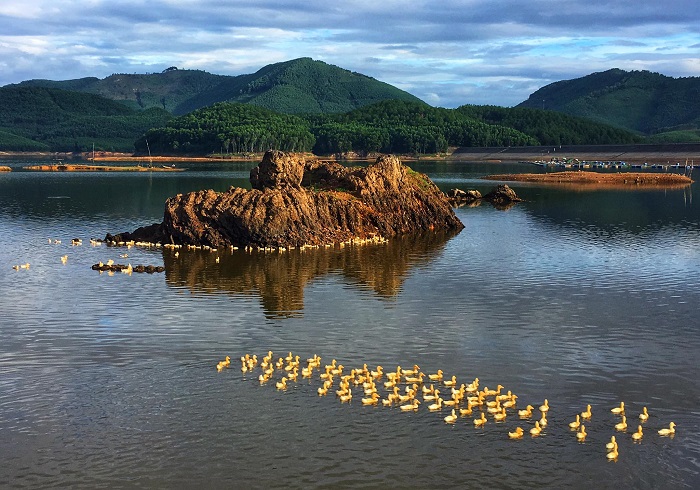 Local people often raise ducks and release them in the lake. Photo: FB Hue through photos
Previously, Khe Ngang Lake was a destination in Hue that was frequently visited by backpackers, young travelers and local residents. However, more and more tourists know and check in, both sightseeing and taking photos, sometimes staying overnight.
Great experience at Khe Ngang Lake
Ho Khe Ngang Hue is originally a hydroelectric water storage facility, and is also a place where local people take advantage of cage farming. This place is inherently not a tourist destination. Hence you can not ask for many entertainment services here. But really the passionate fun is not suitable for the gentle and relaxing scenery of this place.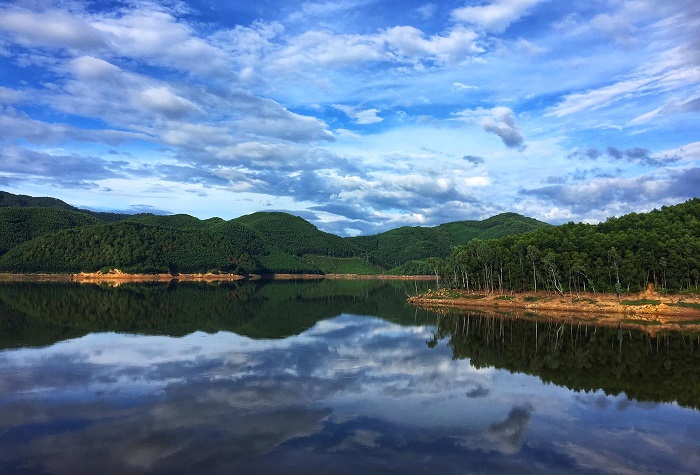 Taking photos, walking and admiring the scenery is an enjoyable experience in the lake across Hue. Photo: FB Hue through photos
So when visiting the lake, you should take time to walk on the long way to get a full view of the whole lake. According to the experience of many young people, the most ideal time to watch the lake is at dawn and sunset. So, you can camp overnight to welcome the moment when the sun goes to sleep and wake up.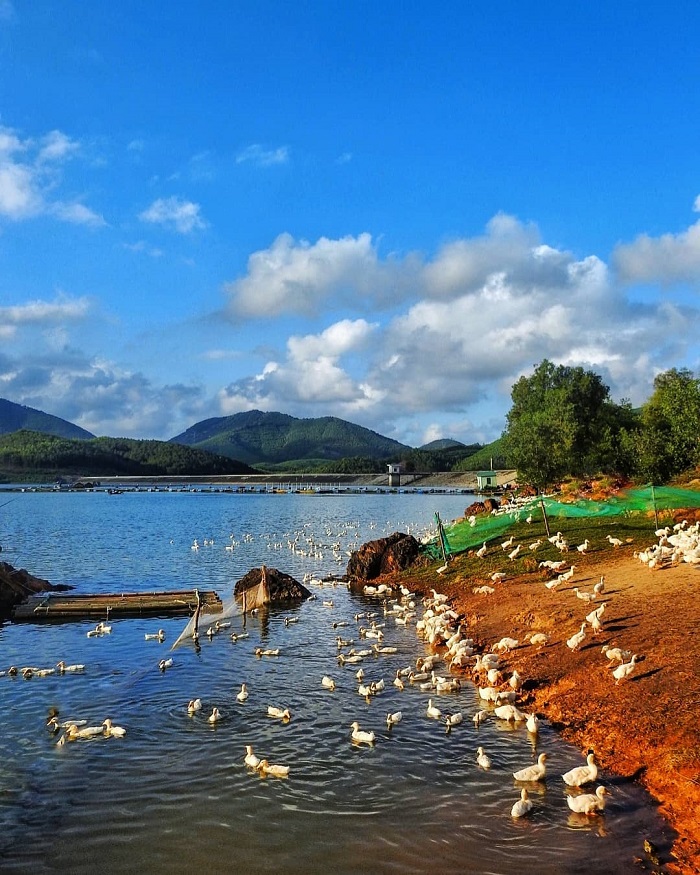 Simple natural scenery in Khe Ngang Lake. Photo: nghianc58
Khe Ngang Lake Hue is a great destination to organize picnics and picnics. You can prepare food, drinks, tents, ... to stay overnight here. On starry nights, lying in tents and counting the stars, telling all kinds of happy and sad stories with close friends is something you should write about once in your life.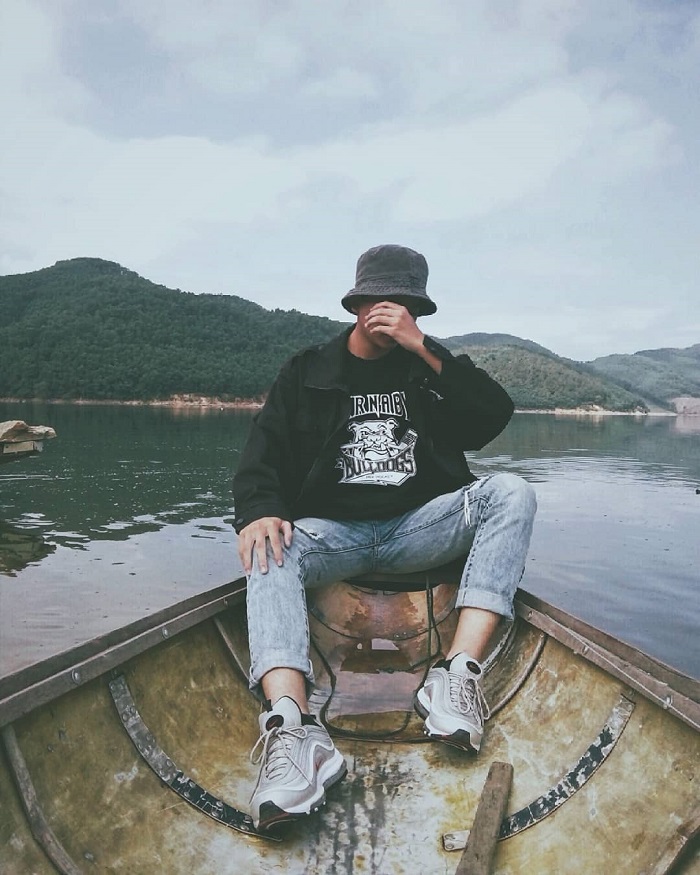 Sitting on a boat walking in the lake is also an interesting experience Photo: qhuyy_14
For those who love activities, rowing sub in the middle of the lake is a very recommended experience. However, remember to bring a life jacket for your own safety. If you do not have a talent for paddling, you just need to walk the paved road close to the lake to have a set of genuine photos to bring.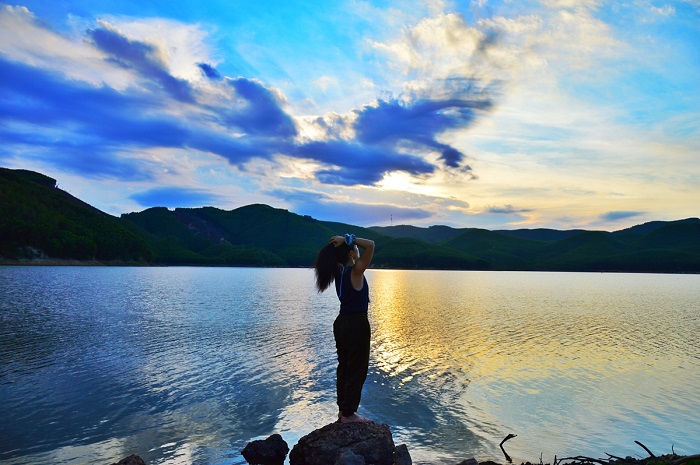 Ho Khe Ngang Hue is suitable for picnics on weekends. Photo: Vnexpress
Ho Khe Ngang Hue is not only a cool, peaceful suburban destination for young people and tourists. But this place is also ideal for couples to take wedding photos, to save their happy moments.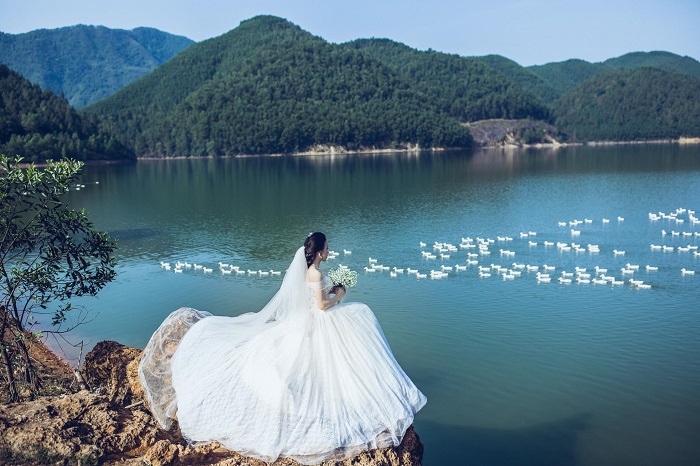 Many young people choose this place as the place for wedding photography. Photo: Luu Huy Wedding
Because the beauty of this place is romantic and romantic, you should choose light, vintage clothes to create harmony with the scene. And if you want to have a private space with few people, come here in the middle of the week or early in the morning. Because this lake more and more people know and check in often.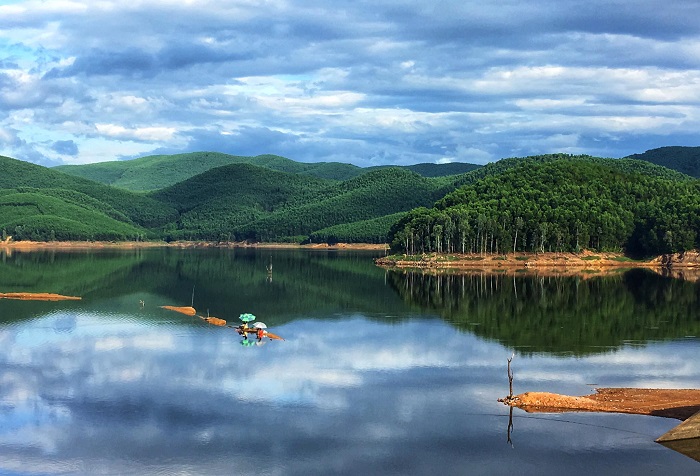 Having the opportunity to come to Hue, remember to check in Khe Ngang Lake. Photo: Hue through photos
Khe Ngang Lake is creating a "fever" in the ancient capital when many young people come here to play and take pictures. Having the opportunity to visit Hue, you should visit this lake. This destination is also close to Khai Dinh mausoleum, Tu Duc tomb. You should combine many spots to make the journey to discover Hue more fully.