Hue region always attracts tourists with its quiet and ancient style. Coming to Hue we have the opportunity to admire the long mausoleum lights, this is the place producing many talents, and also a lot of specialties with its own imprint.
Mussel rice
Going to Hue without enjoying mussel rice is a big loss for yourself. A very simple and popular dish is present in every corner of Hue so this is an indispensable specialty if traveling in this land. Mussel rice is made from cooked white rice, cooled. People take cooked mussel meat in combination with a little more pork rinds, spices and a bit of raw vegetables, roasted peanuts and crushed is finished a mussel rice. It seems like a fairly simple method, but it has sophisticated features that only Hue people can do. The price of mussel rice is very cheap, only from 10,000 - 15,000 VND / bowl so everyone can eat it. If you have the opportunity to Hue, you definitely have to try this famous dish.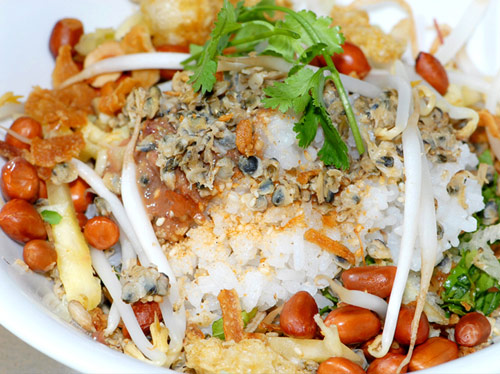 A very simple and popular dish present in every corner of Hue
Che Alley
Coming to Hue, you will surely see the streets where there are tea shops from big alleys to small alleys, most of them are street vendors without names or signs. of Hue specialtieshey, people often call it alley tea. The variety of this alley tea is incomparable, the fragrant corn tea smells of the smell of young corn milk in the Hen dunes, then the bean tea, beans, black beans are just greasy on the Perfume River, any tea flexible, fragrant taro, cool green bean tea, lotus longan lotus seed, cool bar ... every dish is delicious, sweet, and fragrant as the heart of Hue people. The original Alley tea is in the corner of K29 / 1 Hung Vuong street, there are tea shops that have been lying in silence for thousands of years in that small alley. Each cup of tea is only 5-6 thousand dong, but when diners have eaten, they just want to eat more until they become hard.
The burden of tea with no names or signs in the alleys in Hue
Bun Bo Hue
Hue beef noodle is undoubtedly the most famous Hue specialty of this region, because this dish is present in almost every province in our country but there is no place that can have delicious and delicious beef noodle soup. just like in Hue. The form of a bowl is very simple, not picky: small white noodles, a piece made from raw spring rolls and delicious crab meat, a full pork skin, lean, bone, a few slices of sliced ​​beef thin to reveal red veins, clear vermicelli and dotted with green coriander stalks and white cinnamon antennae. All is so simple, but together, it gives diners to feel the taste on the great, very worthy of the title "beauty of the world".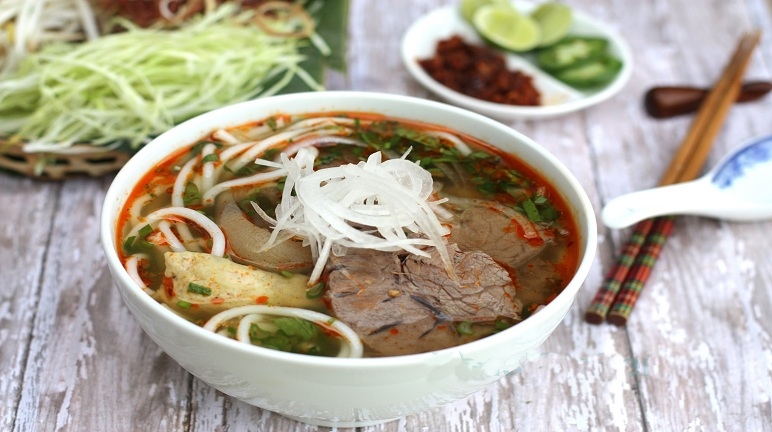 Bun Bo Hue - a specialty that cannot be missed when visiting
If I have to mention all the Hue specialties , I don't think I can tell them all, so if you have the opportunity to come to Hue, please learn about the rich and diverse cuisine here. . And to Hue you can also buy a lot of specialties as gifts for friends or family such as sesame, candy, .. If you do not have the opportunity to visit Hue, you can choose Saigon as a destination to Enjoy Hue specialties , because Saigon is a city with a lot of specialties of different regions, of which there will also be Hue specialties.. And if you have come to Saigon, you should also try NongLamFood's herbal tea drink, which is not only delicious, good for health, but also can be taken as a gift for family or relatives. Herbal tea is not only easy to take away but also helps against aging and weight loss is also very good.