1. Com Clam
The best mussel rice is only available in Hue. Although mussel rice is a popular dish, everywhere in the countryside or in the countryside, it is still luxurious and rich in flavor. Mussel rice is made from cooked and cooled white rice. The mussel meat is added with additives, added to the fried pork rind. Mussel rice has a bit of Hue shrimp sauce, which is just Bui, acrid, spicy and pungent. Served with an additive of raw vegetables including: raw vegetables, bananas, bean sprouts and little sliced ​​white taro. Peanuts are roasted with gold and non-yellow oil for a beautiful color.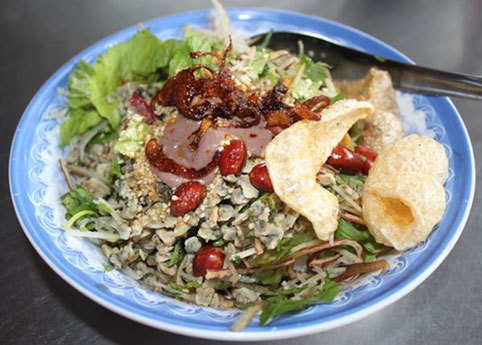 The best mussel rice is in Hen dune, or Little's shop, sold in Pham Hong Thai alley, corner with Truong Dinh - but only sold in the morning, at noon is all, or else eat at No. 2 Truong Dinh. Mussel rice is quite cheap, one bowl is only about 10,000 VND.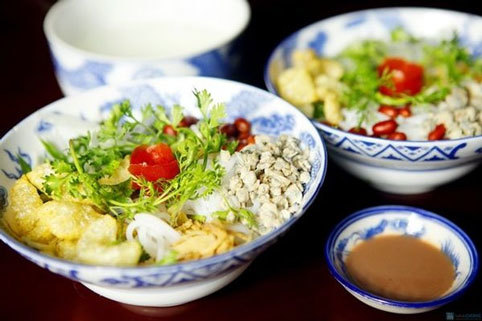 2. Ba Doi soup cake
Located on Dao Duy Anh street, at the end of a small alley, there is a cake shop without any sign. The shop operates in a family style with few workers, so customers often have to wait a bit longer, so the shop is known by the customers as Mrs. Doi restaurant. (Hue people often call it Mu Doi). Although the banh canh of this shop is sliced ​​flat like Quang Binh, not round, the broth is Hue style.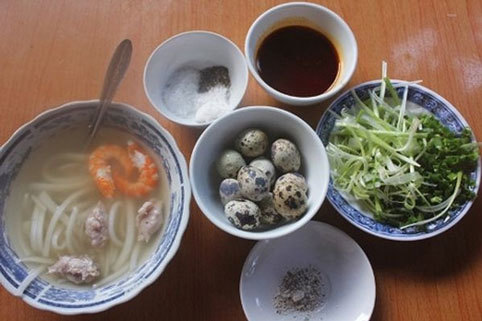 The broth of this restaurant has a rich taste and natural aroma of shrimp. When the bowl of soup cake is brought out, clear water, spring rolls and crunchy shrimp, diners will add pepper, salt, lemon, chili sauce and chopped green onions displayed on the table, although the broth itself is used in the bowl. It is already delicious enough ... Therefore, it is rare for customers to miss the broth in Mrs. Doi's soup.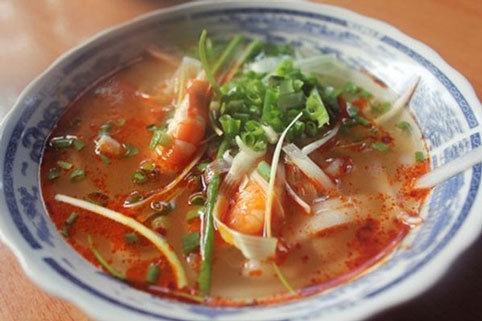 3. Alley Tea
In the past, my grandparents used to say if outside Hanoi there were "36 streets", Hue would also have "36 kinds of tea". No one knows when the alley tea has been in Hue and just called it that, because it is often deep in the alleys with many different types of tea.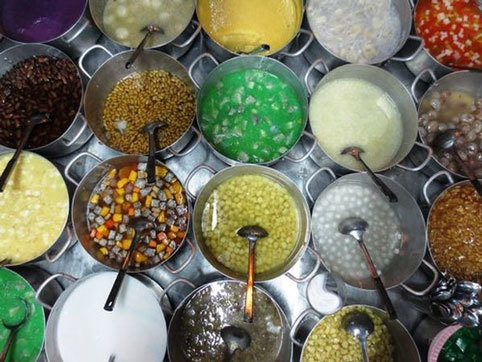 Each type of tea has a unique flavor, delicious, delicate and sophisticated as the people here. Sweet and pure sweet corn tea is both pure and fragrant, cooked from young corn of the mussel alcohol, lotus seed tea with a strange frankincense flavor of the lotus seed of Tinh Tam lake - a kind of lotus "king". There are also longan tea wrapped with sweet, fragrant lotus seeds and many kinds of tea such as pomegranate tea, water drift tea, taro tea, and powdered tea ...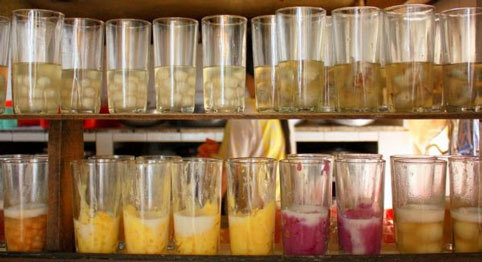 There is a strange kind of tea that only Hue has: filtered tea with roasted pork. Sophisticated processing from pieces of roasted pork cut into small pieces, wrapped with glutinous rice flour, added sugar to make tea When eaten, this tea gives us a very strange feeling, both sweet and salty, greasy hard to put into words ...
4. Hue vegetarian rice
If you want to have a frugal meal and have your body purified, try a vegetarian meal in Hue. Vegetarian dishes are also very diverse and rich, just from vegetables, tubers, mushrooms, tofu ... but you had a full meal and extremely hearty.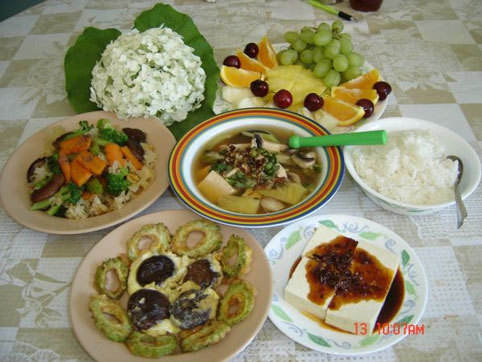 Visitors to Hue, if they like to enjoy a vegetarian meal, in addition to Buddhists who know how to cook delicious vegetarian rice to invite intimate at home, can contact the temple to enjoy a special Hue vegetarian meal. You can go to any temple, but it is better than Tu Dam Pagoda, because there is a nun pagoda so many nuns cook delicious vegetarian rice, right in the city - on Dien Bien Phu street.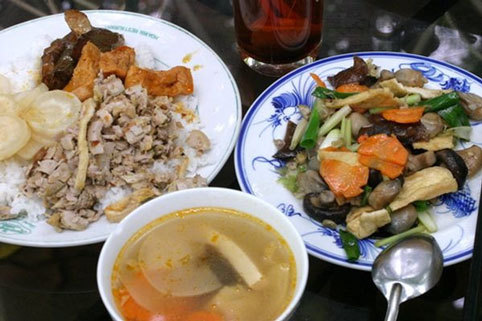 In addition, you can also go to Lien Hoa vegetarian restaurant - 3 Le Quy Don street to enjoy vegetarian dishes. The price of vegetarian dishes here is also quite cheap.
5. Bun bo Hue
Hue beef noodle is the soul of Hue cuisine, the deliciousness and popularity of this dish is not much to discuss. Hue beef noodle has a piece of pork leg, a piece of self-grasping, a small piece of pig blood, and of course, a few slices of beef. The accompanying vegetables are also very fresh and abundant. The most famous Hue beef noodle shop: 13 Ly Thuong Kiet (next to Union Guest House). In addition, everywhere in Hue you will easily find a quality beef noodle shop. The price of a bowl of Hue beef noodle soup is about VND 30,000.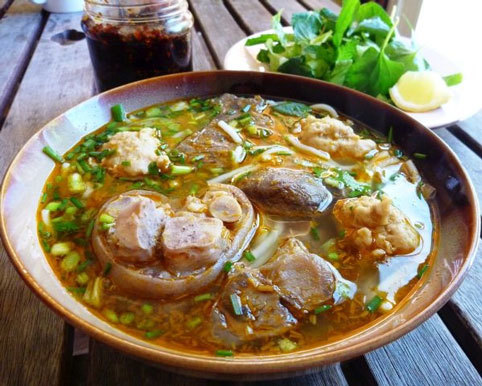 6. Vermicelli with grilled meat, wet bread with barbecue
A special feature of these two dishes lies in barbecue. The meat here is just enough marinated, does not drown out the aroma of the meat, is soft but not dry, and has a unique flavor, quite special compared to other places. The dipping sauce is just right for the mouth, especially there are lots of raw vegetables, fresh and green.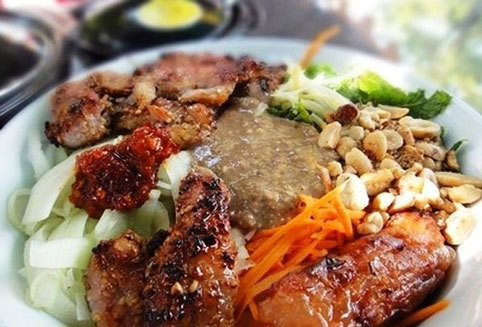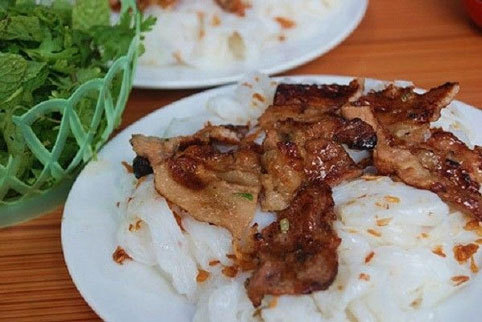 Wet barbecue and vermicelli noodle shops are located on the side of Kim Long - the road to Thien Mu pagoda
7. Types of Hue cakes: Beo cake, filter cake, banh chung
Have the opportunity to come to Hue, see how dirt cake is attached to the daily life of the ancient people like. Around 3 to 5 pm, on the alleys, the women wagged on their shoulders or small baskets at their waist, selling dirt, filter cake to each house. Hue people like it and have made it a habit to use this flavorful cake in their side dishes.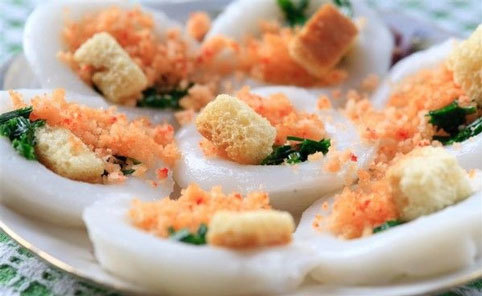 You can go to "Banh Beo Town" such as An Dinh Palace, Ngu Binh Street, Nguyen Binh Khiem ... to enjoy the "Banh Beo" culture firsthand here.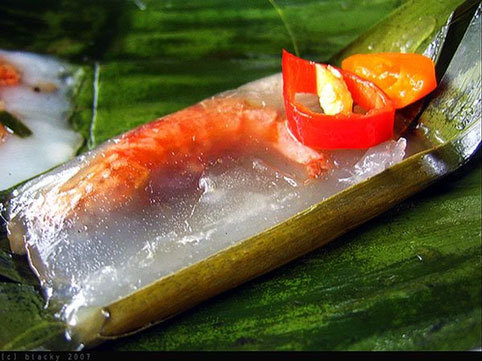 Pancake is poured with rice flour paste and water and egg yolk, then add pepper, onion, fish sauce, salt, peeled shrimp, grilled beef (or bird), sliced ​​fat, and bean sprouts. The cake is good in part because of the broth, a sauce that only good chefs can make. This is the secret of inheritance, quality decision, creating premium taste of pleasure cake.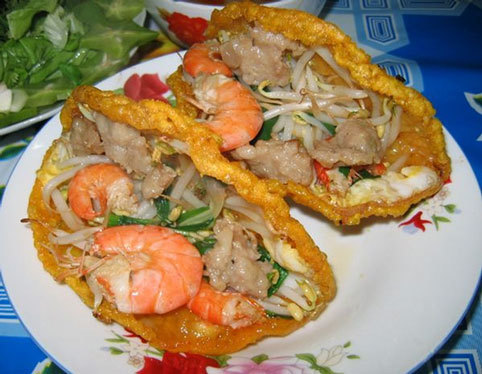 The most famous banh chung is Thuong Tu fancy cake, the shop has 3 branches: Lac Thien, Lac Thanh and Bach Yen.
8. Nhat Le banh chung
This is a famous dish in Hue and originates from Nhat Le street in inner city, where dozens of bakeries gather. Fragrant cakes are very delicious due to the smooth combination of the flavor of beans, meat (fat and lean) with sticky rice and spices such as pepper and onions. Long-term acquaintances become addicted, into cravings.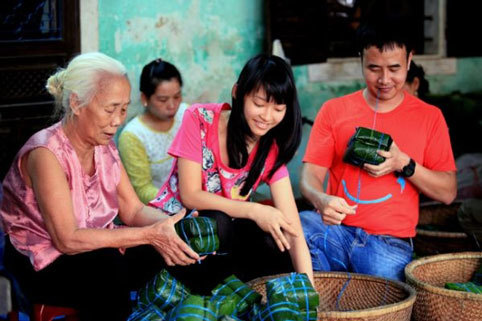 Eat Nhat Le steamed banh chung when it tastes better than hot. Peel off the banana leaves, the fragrant green cake looks sore on the eyes. Biting a piece, the fat fleshy white brown flesh is covered with the roots.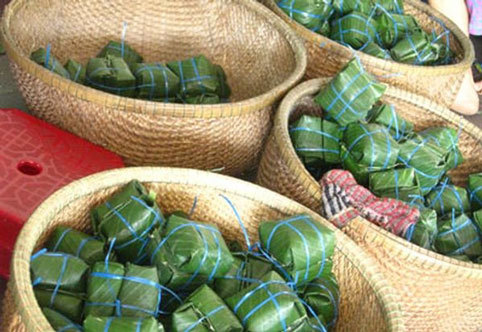 9. Spring rolls Hue substance
Many people often say "Nem Lui is one of Hue thick food". On Nguyen Hue street, there are two shops for sale. Every day and every night, the restaurant is full of people. The first time customers eat and die down, everyone has a good compliment and then eat it a second time, a third time, even eating every day like people "addicted" and always complimenting delicious things.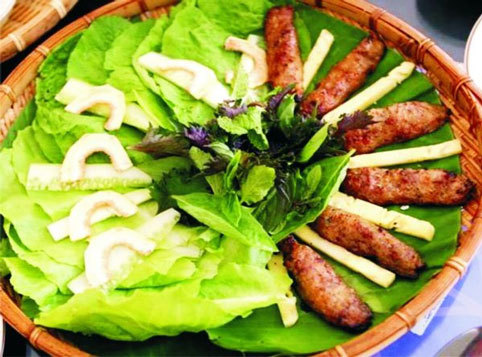 When eating, take the meat rolls with grilled meatballs with vegetables, pineapple, star fruit, bean sprouts, sliced ​​green banana slices, sliced ​​raw green slices, colored chili ... take onions and tie them with a special water called Soup. Soup used for spring rolls is made from dozens of different ingredients such as vegetable oil, pig liver, executioner, sugar, fish sauce, cinnamon, and mint flowers mixed with coconut milk.